Chicken Creek Construction Rolling Along
Post provided by Todd McKinney, Visitor Services Park Ranger
If you haven't had a chance to see it yet, contractors are out in the wetland, working hard and laying the groundwork for the real digging to begin. This past week, crews mobilized their heavy equipment and staged it along the lateral ditch road in preparation for the work to begin.
Today, visitors could see trucks traveling up and down the future creek corridor, delivering the woody debris that will be placed in the excavated creek channel. There is a good possibility that early next week we should begin seeing dirt being moved and the start of back filling the lateral ditch delivery channel.
With all of this, there have been some closures on the trails put in place.
The year-round trail remains open and accessible.

The large 3.5 mile loop is open to everyone. Access can be done as normal from the wayside, or the main parking lot. The crews working on the project will be accessing the site from the wayside gate, so be vigilant as you walk through that area until they wrap up their work for this season which will likely be by the end of September.

As for the inner loop, there is small section in the middle that is currently closed for the time being. Access to go around the inner, smaller loop is not available at this time. However, you are able to go out and back. This will reopen eventually, but for safety, it needs to be closed for this short time.
If you are curious about what this temporary trail closure looks like, check out the image below.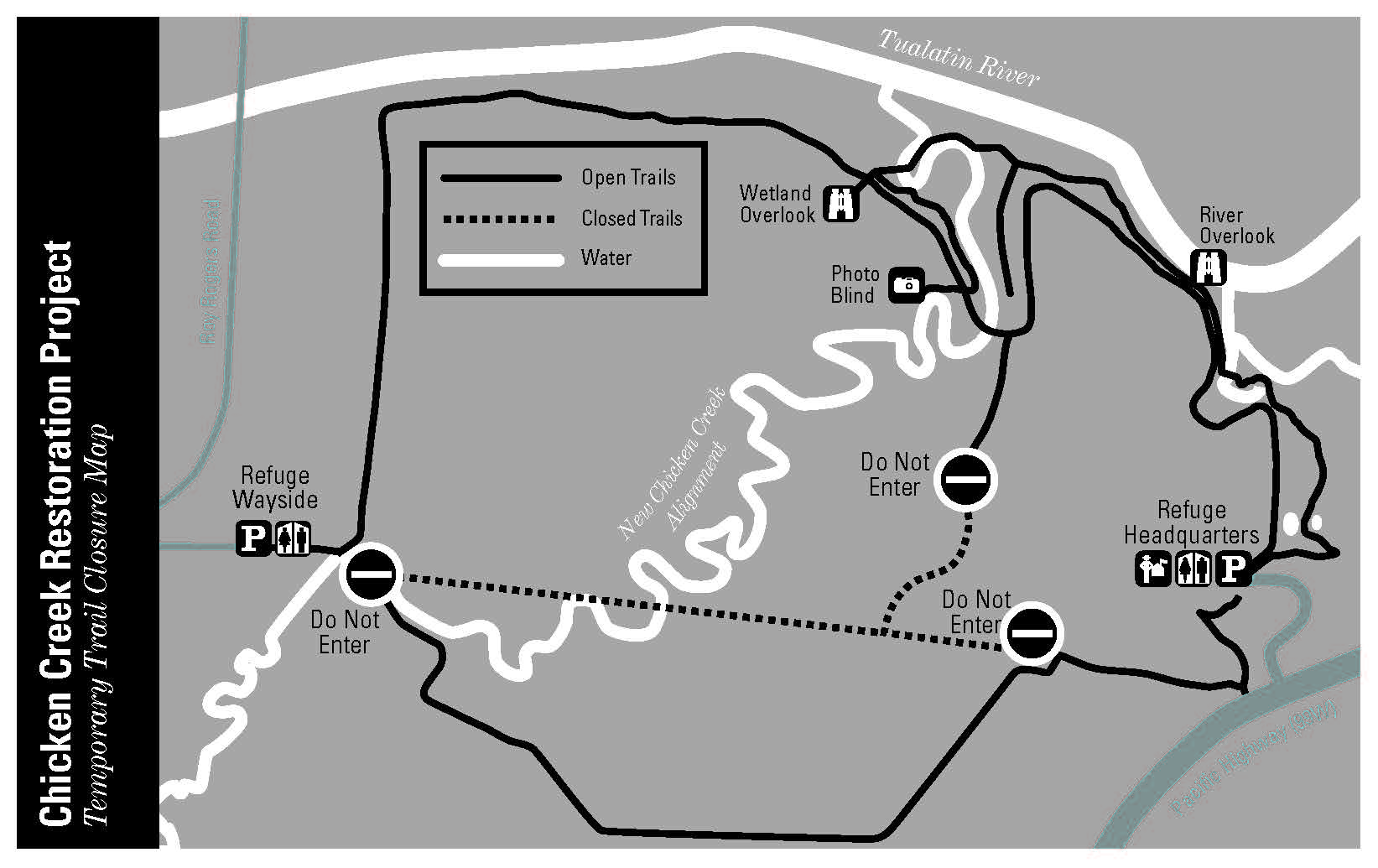 Do be aware that there may be some dust in the air from all the construction in the wetland, but the contractors plan to have water trucks out to mitigate that potential, if needed.
It is recognized that this project is a disruption to everyone, but knowing that this disruption will create better habitat for the plants and animals and improve the overall health of the land, it feels like a pretty good trade off.
If you have any questions please don't hesitate to call the Refuge at 503-625-5944.