A Busy Couple Weeks on Main Avenue
Progress continues with the U.S. Department of Transportation project that will ultimately improve the trip to Ridgefield National Wildlife Refuge for both drivers and pedestrians. The Main Avenue Project is installing a much larger culvert than was previously in place at Main Avenue and Gee Creek, near the entrance to the Refuge's Carty Unit, which will significantly reduce the road flooding that would occur during major rain events. The project will also extend the city sidewalk all the way to the Refuge entrance.
The USDOT is kind enough to provide us updates on the project's progress, so here's a look at the last couple of weeks of work.
The Week of August 26th to August 30th
This week, project contractor, C & R, put the finishing touches on the 40-foot arch culvert. This involved reinforcing the joints between the various sections of the culvert with concrete and grout.
Streambed material was placed in the wetland mitigation area where an unnamed creek converges with Gee Creek. Crews also began to receive rip rap material - rocks placed to prevent erosion from water - for placement in the bottom of the culvert.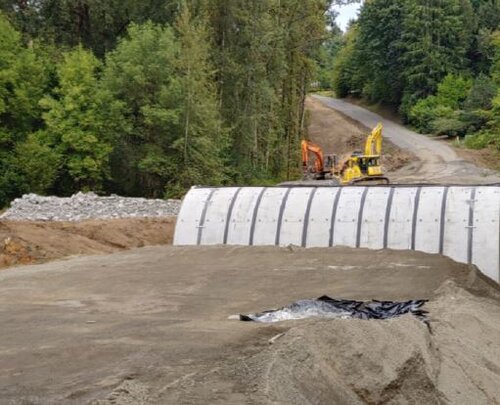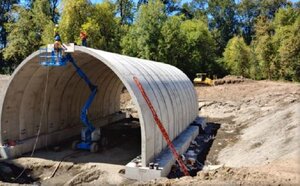 The Week of September 2nd to September 6th
This week, C & R placed riprap material within the culvert. The crew also began turning their attention to the wing walls. These are concrete walls constructed on each side of the culvert openings that retain the material (rocks and soil) that surround the culvert and prevent it from sliding into the creek.
Additional work also took place in the wetland mitigation area. Cottonwood and willow cuttngs were planted in the wetland, followed by hydro seeding.